Women band together to renew lactation spaces at VUMC
"Some people consider lactation spaces a human resources benefit; we think of it as a right and an obligation."
June 23, 2023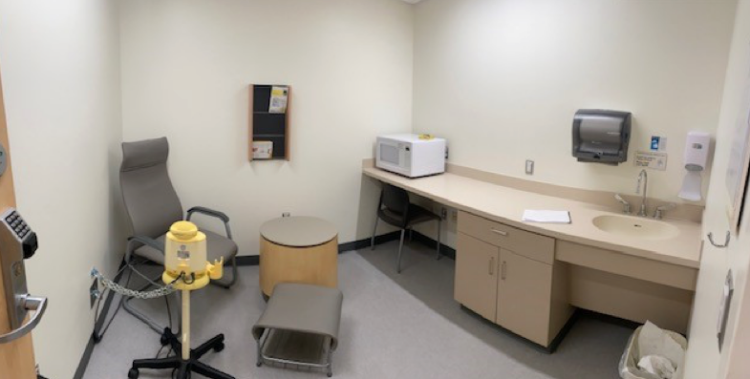 A lactation room in Medical Center East
Employees needing the use of lactation rooms have more available spaces than ever at VUMC, and many of those spaces have been refurbished recently.
The effort to bring more focus to the availability and utility of the spaces was brought about by an ad hoc group of women professionals at VUMC who worked in conjunction with Lee Ann Liska, chief operating officer of Vanderbilt University Hospital, and Cynthia Facemire, administrative director of Expansions and Transitions, and her team.
Among the group members were Alexandra Shingina, MD, MHS, assistant professor of Medicine; Rachel Apple, MD, assistant professor of Medicine; Heather O'Dell, director of Advanced Practice Transplant Clinical Services; Katie Sunthankar, MD, clinical fellow in Cardiovascular Medicine; and Jamie Pfaff, MD, a third-year resident in Medicine.
"Some people consider lactation spaces a human resources benefit; we think of it as a right and an obligation," Liska said.
While all new construction at VUMC, including the recently opened inpatient areas on floors 6, 7 and 8 of Medical Center East, have dedicated lactation spaces designed from the beginning, VUMC has had a challenge identifying space in older buildings. A further challenge, since there is no one person or group overseeing all the spaces, is to maintain them and to keep an up-to-date and comprehensive list. That list has recently been updated and is here.
Under the leadership of the group, "We were able to refresh many of the rooms," Liska said, including installation of artwork and microwaves, to make the spaces more pleasant and usable. Employees may bring their own breast pumps, of course, but almost all of the rooms also have secured pumps for use, and pumps are on order for the rooms that don't currently have one.
While most of the rooms are single occupancy, some are larger and can accommodate two or three people in private areas at a time.
There is also an online reservation system operated by Human Resources.
"We take lactation spaces seriously, and we want our team members to know where they are," Liska said.