When ABC's "World News Tonight" was broadcast live from VUMC
A specially built platform outside the hospital allowed anchor Peter Jennings to deliver the news with a VUMC backdrop
October 16, 2019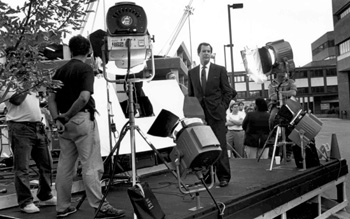 Peter Jennings waiting to begin the broadcast of ABC's "World News Tonight" from the VUMC campus in 1994. File photo by John Howser
In September 1994, ABC's "World News Tonight" came to Nashville to do a special series of broadcasts on the issue of health care reform — then, as now, an important topic in the news.
Peter Jennings, the anchor of "World News Tonight," spent several days in Nashville and at VUMC during the course of producing and reporting the news shows.
Jennings even anchored one of the evening news broadcasts from a specially built platform erected outside the Emergency entrance to Vanderbilt University Adult Hospital. Construction has now covered the exact spot, but it was roughly where the stairs leading from Medical Center Drive to Dixie Place are located.
At the close of the newscast from the VUMC campus, Jennings thanked Vanderbilt for its hospitality. Part of that hospitality was an off-camera gift to the anchorman: a black-and-gold Vanderbilt tie. Jennings promised to wear it on the air, which he did on his first newscast after returning to ABC's New York studios.
Jennings, who became one of the best-known news broadcasters of his generation despite never graduating high school, anchored ABC's evening newscast in two stints over the course of many years, and was its solo anchor from 1983 to 2005, when he died of lung cancer.