Before COVID, 90-year-old Bobby Hamm walked at 100 Oaks every day. His friends from the Dermatology clinic sent him a "missing you" gift.
Since his wife died several years ago, his daily walk was a way to stay connected to other people.
June 24, 2020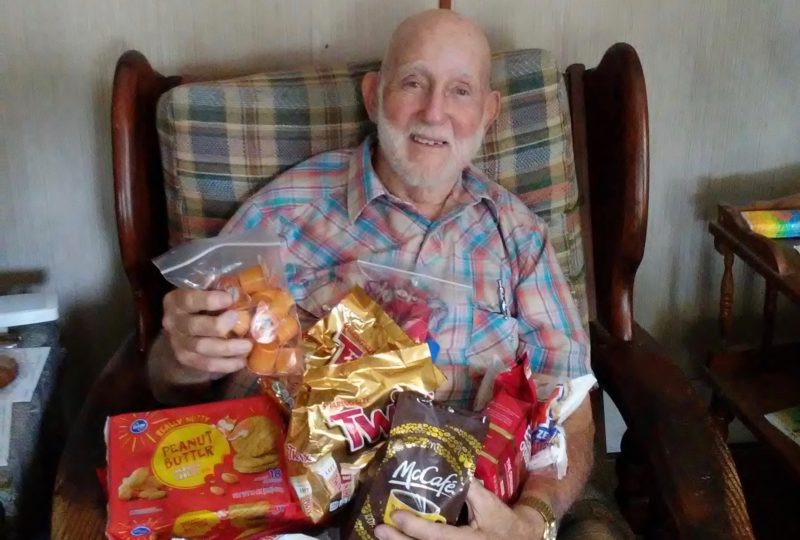 Bobby Hamm at home with some of the goodies sent to him by his friends at Vanderbilt Health One Hundred Oaks.
Bobby Hamm, 90, who lives in South Nashville, used to walk the long corridors of Vanderbilt Health One Hundred Oaks for exercise. It had been his daily routine since his wife died in Spring 2015.
The hour or so spent there each day was typically Bobby's only social interaction during the week. He enjoyed interacting with the Vanderbilt Health staff, particularly those who work the front desk at the Dermatology Clinic: Theresa Baskin, Jackie Montague, and Adam Patheja.
"I could tell by the tone of his voice and the sparkle in his eyes how much seeing his friends at Vanderbilt did for his physical and mental health."
"It was pure humanity becoming Mr. Hamm's friend. We would see him walk through every day and we were motivated by the fact that he would exercise at his age consistently. One day Theresa struck up a conversation and Adam and I chimed in. From that day on we would look forward to seeing him come in. He was like clockwork – same time every day unless it rained," Jackie said.
In mid-February, Bobby's stepdaughter, Rita Underwood, asked him to refrain from going to One Hundred Oaks out of concern about COVID-19.
"I could tell it really broke Bobby's spirit, but it was in his best interest to stay home. It was apparent that Bobby knew that his walks helped his health, but it was not seeing his friends, Theresa, Jackie, Adam and all the other people, that was going to hurt him," she said.
As time passed and the pandemic showed little sign of easing, Rita was pleasantly surprised when the Dermatology Clinic colleagues called to check on Bobby. They created a video expressing their best wishes and conveyed the importance of staying at home for his health and well-being.
"He brightened up so much, knowing that they cared. He understood that his friends at Vanderbilt missed him too," Rita said.
As time went on, Rita could see that Bobby was feeling blue, stuck at home.
"Walking in the yard and talking to me was not enough to keep his spirits up. I played the video again; he smiled, he understood the seriousness of staying at home, but let me know he missed walking at Vanderbilt and his friends."
The Dermatology Clinic staff stepped into action again and surprised both Bobby and Rita when they called a second time. They had something for Bobby: a gift bag of his favorite sweets along with a beautiful miniature rose plant for Rita.
Rita drove Bobby to One Hundred Oaks during the clinic's lunch break. The team, wearing facemasks, met them in the parking lot, and bestowed the gifts.
"Bobby was so happy. This is just what he needed; I could tell by the tone of his voice and the sparkle in his eyes how much seeing his friends at Vanderbilt did for his physical and mental health," Rita said.
"I will be forever grateful for their kindness to Bobby. In my opinion, it is rare for people to take the time, not only to talk to an elderly person, but also to make them feel that they are important and have meaning. He is almost 91 years old and the highlight of his day was seeing his friends at Vanderbilt and having that quick conversation. COVID-19 has hurt so many people…in so many ways," Rita said.
Bobby is eagerly waiting for restrictions to be lifted so he can resume his walks and visits.
"He asks every day, 'When do you think I can go back to see my friends at Vanderbilt?'" Rita said.