Hospital staff conspires to help transplant patient plan a surprise proposal – to his wife
Love was in the air on the seventh floor of Medical Center East
February 7, 2022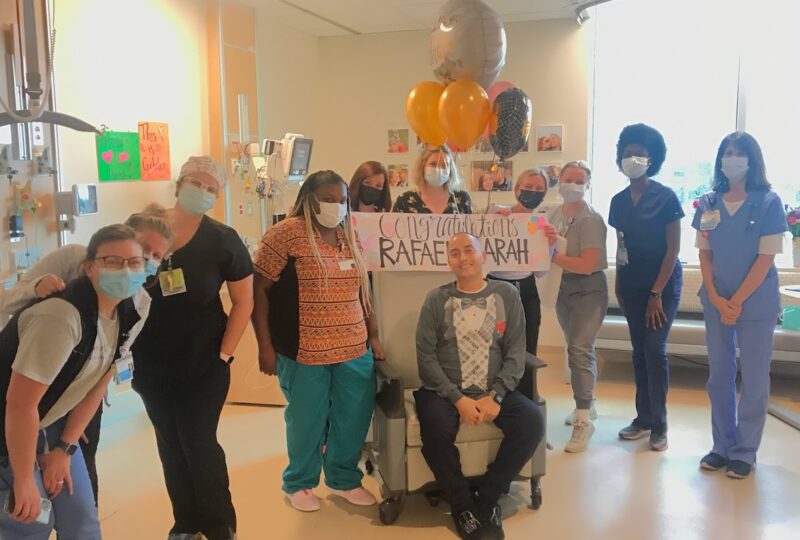 Rafael Barragan with his co-conspirators on the transplant unit on the day he proposed to Sarah Neville, to whom he was, if you want to be technical about it, already married.
The clinicians who care for transplant patients at Vanderbilt are skilled at what they do; VUMC has one of the busiest transplant centers in the world.
Still, this request from a patient called for a different set of skills.
Rafael Barragan, 37, who had days earlier received a dual heart and liver transplant, wanted to propose to Sarah Neville in his hospital room on the seventh floor of Medical Center East. And he wanted the staff's help to spring the surprise on her.
But here's the weird thing: Rafael and Sarah were already married. Yes, to each other.
To those who would listen, Rafael explained the situation, which, as you might expect, was kind of complicated.
It's complicated
Rafael had met Sarah while they both were living in London – he is a California native and she is from Ireland, so they were both foreigners, and they met through mutual friends. He was smitten with her at first sight, but Sarah required a little time to come around to Rafael's charms.
Let's skip past the part about how Sarah already had a boyfriend, and about how she didn't care for business types (Rafael was working for an international tech firm and frequently wore suits), and about how she even at one point rearranged the seating at a friend's wedding to avoid sitting next to him.
Let's skip all that, because here's where it ended up: Sarah was living in Toronto, the boyfriend was no longer on the scene, and, for complicated reasons, she and Rafael ended up talking on the phone. For three hours. And hours more the next day, and the day after that.
He wanted he and Sarah to have big wedding but he wasn't sure that was going to work out, because he wasn't sure he was going to live.
"Two weeks after that I was in Toronto and that was it — we were dating," Rafael said. "And a year after that, I talked her into following me to America and marrying me."
Sarah, an Irish national living in Canada, and Rafael navigated the U.S. immigration process. That resulted in a visa approved just before the COVID-19 pandemic closed travel from Canada to the United States.
"She gets on a plane, she lands, and you have two hours before the border is closed between the U.S and Canada," he said. "It's a fiancée visa, so we only have 90 days to get married before it becomes invalid."
So, Rafael did what a Nashvillian sometimes does — he and Sarah had a quickie wedding with "fake rings" on lower Broadway in downtown Nashville. "It was a 30-minute ceremony, done, had a marriage certificate," he said. "But I really wanted to do it the right way."
He wanted he and Sarah to have big wedding but he wasn't sure that was going to work out, because he wasn't sure he was going to live.
How can you mend a broken heart?
When Rafael was born in 1984 in Santa Monica, California, the delivery went well, and he seemed to be a healthy child. It was only after his 2-month-old checkup, as his parents were putting his baby carrier into the car after the appointment, when they saw his body had turned blue. They rushed him to the hospital, and eventually discovered that Rafael had Shone's Syndrome, a rare congenital heart disease that is fully manifested in four defects in the left side of the heart.
Rafael would have several surgeries during his youth just to get his heart to work. By 20, his failing heart was causing fluid to build up, restricting his breathing. After about a decade on medication, he began experiencing liver failure due to his poorly functioning heart.
He was living in England, was frequently in Nashville where his company is located, and was flying back home to California every few months to receive care for his heart and liver failure.
Because his care was increasingly complex, and he was in Nashville so often, his doctor in California recommended he switch his health care to Vanderbilt. "They have a great congenital team there," he recalls his doctor saying. "It's getting more difficult to manage you out here."
Initially, Rafael came under the care of Benjamin Frischhertz, MD, assistant professor of Medicine and director of the Adult Congenital Heart Disease Program at VUMC. He was then referred to the Vanderbilt transplant team.
"Vanderbilt is one of only a few centers that has built a multidisciplinary team that specializes in transplanting adults with congenital heart disease," said Jonathan Menachem, MD, a transplant cardiologist and director of Advanced Congenital Cardiac Therapies at Vanderbilt Health. "Due to the advances in care for patients with congenital heart disease, there are now more adults with congenital heart disease than children. And as a result, a growing number need and are receiving heart transplants, or in this case a combined heart-liver transplant at Vanderbilt."
In April 2021, Rafael's condition had deteriorated to the point he needed to be hospitalized full-time at Vanderbilt while he waited on the transplant list, hoping the right organs would come in time. He made the best of it, bringing a hammock to lie in on good days outside on the Medical Center plaza, and having Sarah bring his 120-pound Alaskan Malamute, Bodie, a therapy dog, to visit the hospital.
And then he waited — for the organs that would save his life. On July 31, he got the call that they were available. "I was excited but terrified," he said. "When I went under all I could think about was my wife."
Learning to kneel
The transplant was successful, and though he woke up in great pain, Rafael couldn't stop smiling.
"When they first let me listen to my heart, I burst into tears," he said. "It was the first time I had ever heard my heart in my life without mechanical noises," referring to his old mechanical heart valves.
It was during his recovery that Operation Proposal was hatched.
Sarah had a surprise of her own. She looked at her kneeling husband and the surrounding throng, all waiting for her response. "I'll think about it," she said with her best poker face. Then she smiled, said yes, and hugged him — but not too tight. He was still sore from the surgery.
He conspired with his nurses and doctors to remove his hospital bed from the room on the big day, the day he left the hospital. He had French and Belgian chocolate delivered to the hospital room. Nurses brought in champagne glasses and sparkling apple juice. Physical therapists spent two days helping him to learn to kneel again.
"They became like family, and they got to know Sarah really well, so I wanted them to be part of it," he said.
Kristan Scarbrough, MSN, RN, was Rafael's nurse on the big day, and helped him execute the plan.
"We worked it out so I could be assigned to take care of him that day because we had made plans to secure tables to set everything up beforehand, and I helped him pick up the flowers and food and treats he had delivered," she said. "We put up a bunch of pictures in his room that he had made and delivered to the hospital. I also got all the nurses to make a 'Congrats' banner signed by everyone that we gave to the two of them afterwards."
Sarah came into the room, took in the scene. Rafael slipped down on one knee and proposed — to his wife.
Sarah had a surprise of her own. She looked at her kneeling husband and the surrounding throng, all waiting for her response. "I'll think about it," she said with her best poker face.
Then she smiled, said yes, and hugged him — but not too tight. He was still sore from the surgery.
"It just felt completely surreal," Sarah said. "I really didn't think that it was happening. The last thing that I expected was (for him) to plan a proposal from a hospital bed. It was just such an amazing day.
"Together we made a really awesome team."
Scarbrough said she's seen a lot of incredible things working at Vanderbilt, and this was easily one of her favorites.
"I just loved how he chose to focus on giving Sarah everything she'd always wanted when he had just gone through this huge, life-altering surgery," she said. "I'm so glad I got to be a part of it."
Rafael said he feels well, and he's looking forward to life ahead — traveling and hopefully children someday. He has started a nonprofit organization targeted toward congenital, transplant and LVAD patients called Second Chance H.E.R.O.S, to give back and provide meaning to the suffering he's endured as a congenital and transplant patient.
"Most congenital patients believe they are alone until they first meet someone like them," he said. "It didn't happen to me until 26 years old that I met someone who understood my experiences and could help me through the darkest times as a congenital patient."
He said he thinks often about the donor of his organs. "It never sat well with me when I reached the point that somebody had to die to save me," he said. "I'll make sure to do that donor proud."
Sarah and Rafael's wedding is planned for next year.
All photos courtesy Rafael Barragan.