Two miracles, four years apart
Kelly Harden's life was saved by a lung transplant. Exactly four years later, she was saved again with a kidney transplant.
September 21, 2023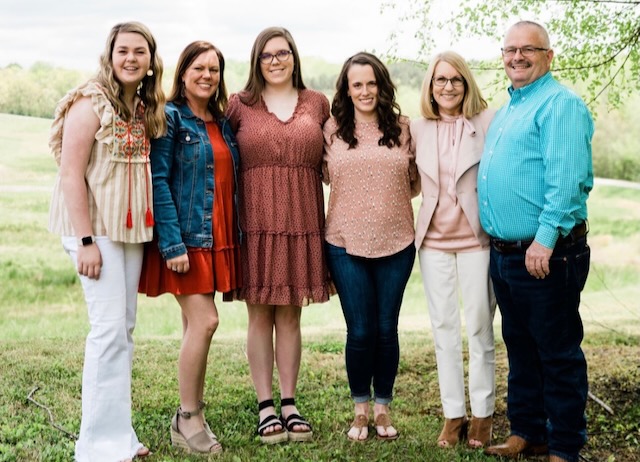 Kelly Harden, second from right, is able to look forward to many more family gatherings after her transplants. From left to right: Kelly's granddaughter Anna Kate; daughter Christy; granddaughter Maggie; daughter Chelsea; Kelly; and husband, Michael.
For Kelly Harden, Jan. 24 will forever be the anniversary of two miracles. The first was on that day in 2019 when she received her lung transplant at Vanderbilt University Medical Center. The second was in 2023 when she received a kidney transplant, coincidentally on the same day as her lung transplant four years earlier.
The journey to those two transplants would bring many people together, including two organ transplant teams and multiple organ donors — including Kelly's daughter, Christy, who donated her kidney to the Vanderbilt Paired Donation Program to make it possible for her mom to get a new kidney from a live donor since Christy wasn't a match for her mother.
"It's amazing," said Kelly Harden, DNSc, APRN, FNP-BC, FAANP, a nurse practitioner and dean of the College of Nursing at Union University in Jackson, Tennessee. "I mean, all of it's a miracle, but to have two miracles and to have them on the same day … and it wasn't planned that way. No one knew when they planned the kidney (transplant.) No one even knew."
"I can do anything I want to do, so it's a miracle. I really got my life back."
Kelly's journey to Vanderbilt and two transplants began in the medical library at University of Tennessee Health Science Center in Memphis, where she was working on her doctorate. "When I first started having lung disease, no one knew what was wrong," she said. She had lupus, an autoimmune disease that can cause organ damage, but her lung damage was inconsistent with it, she said. She spent hours in the library trying to figure out what was wrong with her. After nine months, she had lost 30 pounds.
She checked herself in to the Mayo Clinic in Rochester, Minnesota, for a week, where doctors ran tests and discovered she had constrictive bronchiolitis, a chronic airway disease. The prognosis was not good.
"They told me I probably had three years to live," she said, "and I should get an evaluation for a lung transplant."
But she was also told, at that time, the life expectancy for living with a lung transplant was five years. She wasn't ready. "You know, I'm functioning now," she told herself. She moved her care to Vanderbilt, and her condition was managed for a dozen years. But by 2018, she had shortness of breath and was on oxygen at night.
An evaluation at Vanderbilt confirmed it was time for Kelly to be placed on the lung transplant list. She had reason to believe she would wait months on the transplant list for an acceptable organ because she had antibodies that meant she wasn't a match for 98% of possible donor lungs.
"Not only did she have to be at the top of the list to get lungs, but we had to find the 1 out of 50 donors that would be a match," said her pulmonologist, Ciara Shaver, MD, PhD, assistant professor of Medicine, Allergy, Pulmonary, and Critical Care Medicine.
Against these incredible odds, Vanderbilt found matching lungs for Kelly just 11 days after she was placed on the transplant list.
"At the time we transplanted her, our average wait time for lungs was about a month, so our expectation for her was she was going to be listed for more than a year," Shaver said. "And then it was 11 days. We just got lucky."
Kelly said after the transplant she never needed to be on medical oxygen again.
"I don't have any trouble with my breathing," she said. "I mean, I'm not going to climb Mt. Everest, but I wouldn't have done that anyway. That's not me."
But she did walk a 5K with her students at Union University.
"She is just a super lady," Shaver said. "When she was getting listed for her lung transplant, she wanted to wait until after her students graduated so that she could be at their graduation before she got listed, because she didn't want to miss it. And that worked out OK."
Her life was about to be changed again. Over the next four years, she developed kidney failure and had to begin nighttime dialysis. She had a choice: wait years on the transplant list for a kidney from a deceased donor or pursue a living kidney donor. She chose the latter.
Seventeen people came forward to be her kidney donor, including her daughter, Christy. But, as she was incompatible for all but 2% of lungs, she was incompatible for all but about 15% of kidneys. She got lucky with her lungs, but none of her kidney donors were a good match.
Though Christy didn't have a compatible kidney, she learned through the donor testing process about an alternative called paired donation. Christy could donate her kidney, which would go to an anonymous recipient. Then, another anonymous donor, whose loved one wasn't compatible to donate a kidney, could donate to Kelly. The paired donation process can start a chain reaction of donors and recipients.
"It was never a question" whether she would do it, said Christy, a former EMT and now the communications operations manager for Jackson MedLink in Madison County, Tennessee. "Most people would do this for a loved one. That's my hope. I don't feel like a hero or anything else, but there is an immense amount of joy that I've never felt in anything I've ever done."
Christy's gift of life made her mom a high priority on the paired kidney list for a new organ. Kelly received her new kidney at Vanderbilt about eight months after her daughter donated her organ — four years to the day she received her lungs.
"I've been able to take some vacations. I'm able to work at a job that I love. I'm able to, you know, be there, to do Mother's Days and birthdays and Christmases. And that's a gift."
Today, Kelly says she feels great and enjoys spending time with her family – husband, Michael, and daughters Christy and Chelsea.
"I can do anything I want to do, so it's a miracle," she said. "I really got my life back. I've been able to go to the beach with my family — where I couldn't walk in sand before because it made me too short of breath. I've been able to take some vacations. I'm able to work at a job that I love. I'm able to, you know, be there, to do Mother's Days and birthdays and Christmases. And that's a gift."
"Ms. Harden has really embraced the gift of her transplants," Shaver said. "She is a wise mentor to many other transplant patients and has taught generations of students to provide excellent clinical care. It is an honor to get to care for her and to hear about her adventures. I know there are many more stories to come."
 To learn more about becoming an organ and tissue donor, visit bethegifttoday.com.
Tennessee drivers can also choose to become an organ donor on their driver's license applications. Donors are encouraged to share their decisions with their families.
 For more information about how to become a living kidney donor, including the paired donation program, visit https://www.vanderbilthealth.com/program/kidney-transplant-living-donor.