They were married during the pandemic. They directed their wedding gifts to feed health care workers.
Heather and Lewis Burwell's wedding didn't turn out like they planned. But they found a way to share their celebration with the community.
May 22, 2020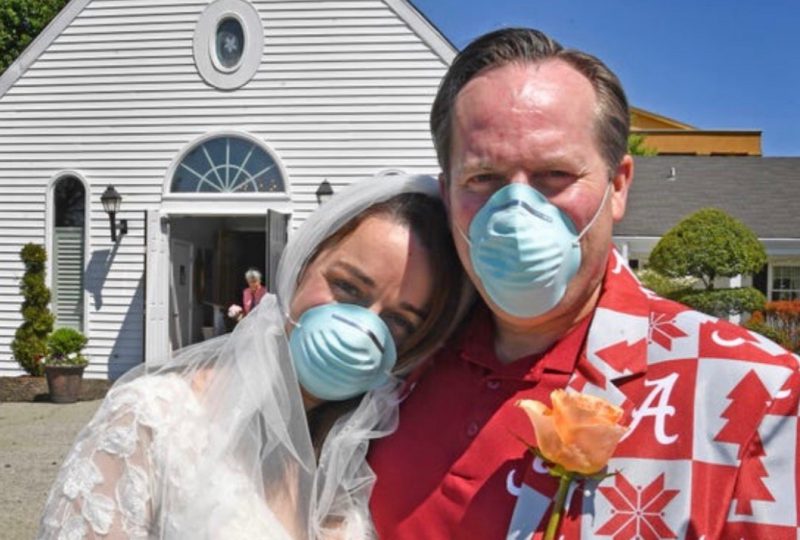 Heather Helton and Lewis Burwell were married in a small chapel with six people (including the minister and photographer) in attendance. Lewis wore an Alabama Crimson Tide-themed jacket that had belonged to Heather's late father. Photo courtesy Heather Burwell
During the COVID-19 pandemic, many community agencies and individuals have generously donated food and other supplies in support of VUMC, its people and its work.
Even in the context of that outpouring of generosity, the contribution of Heather and Lewis Burwell stands out.
The couple was married under strict quarantine conditions on Friday, April 10. The minister wore a mask, the guest list was trimmed down to a socially distanced six people from the original plan of about 300.
And as for wedding gifts…
"We are older," Heather said (she and Lewis are both in their 40s, first met in college at Lipscomb University, and reconnected later). "We each have our own homes. We don't need anything.
"So we thought — where could that money best be utilized?"
The newlywed Burwells asked anyone who was planning to buy them a wedding gift to instead contribute to purchase meals for people working in hospitals during the COVID-19 pandemic. With some advertising support from the entertainment site Do615.com, she has collected donations at Venmo @Janitors-Nashville2020.
Heather is very familiar with VUMC; she graduated from Vanderbilt with a Master of Divinity degree this year, and had previously interned with the Pastoral Care department at the Medical Center. The first meal delivery she arranged was to her former colleagues in that department.
"It was so awkward," she said. "I wanted to hug them when I dropped it off, and they had to say 'stay back.'"
Since that first drop off, Heather has arranged deliveries from local restaurants to staff, including custodial workers, at both VUMC and at Williamson Medical Center, with more to come — all while adjusting to life as a newlywed.
Her son Jude, who is 11, is finishing the year at Nashville's J.T. Moore Middle School, and the new Burwell family is in the process of building a new house in Hendersonville.
She said the decision to direct wedding gifts to food deliveries for others, even though it was an impromptu reaction to events, has spurred her toward a goal she has had in mind for a while.
"I have thought for more than a year that I wanted to start a nonprofit. This feels like a very open barn door for making that happen. We'll see."