Martin Luther King Jr. Morning Tribute features voices raised in song and calls for unity and justice
The United Voices of Vanderbilt choir sang "Battle Hymn of the Republic" and André Churchwell soloed on "Abraham, Martin and John."
January 21, 2019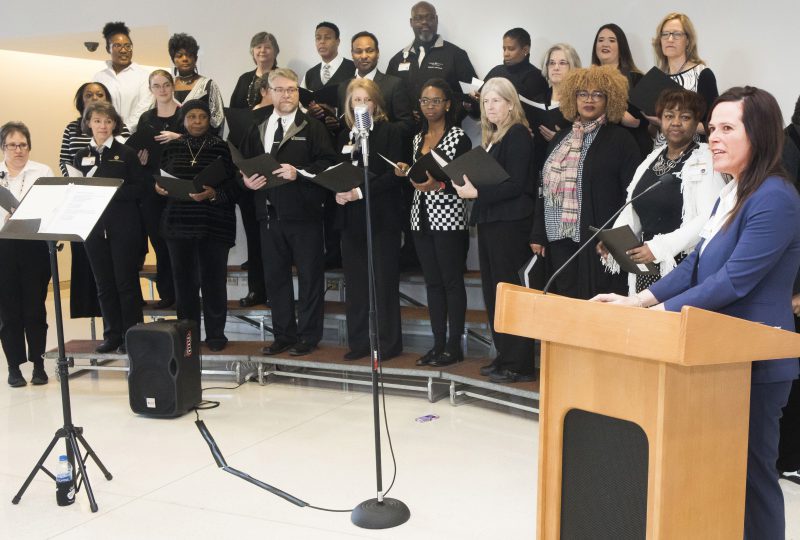 Traci Nordberg, chief human resources officer, with members of the United Voices of Vanderbilt choir, welcomes attendees to the Martin Luther King Jr. Morning Tribute. Photo by Susan Urmy
Songs and inspirational words rang through the north lobby of Light Hall Jan. 21 as Vanderbilt University Medical Center began its celebration of Martin Luther King Jr. Day with the third annual Morning Tribute event. The Morning Tribute is sponsored by the Office for Diversity Affairs and Human Resources.
The United Voices of Vanderbilt choir opened with a stirring rendition of the "Battle Hymn of the Republic." Following that, Traci Nordberg, JD, chief human resources officer, noted King's passion for making changes in society, and pledged the commitment of Medical Center leadership to equality and fairness.
"We need everybody to play a part," she told the gathered crowd. "I want to encourage you to think, 'What can I do – what can WE do – to make change."
André Churchwell, MD, chief diversity officer for VUMC, likened the building of a fair and diverse workplace and world to the construction of a building, brick by brick.
"Diversity is what we all do together," he said, recalling that at the time King was assassinated in Memphis, he was there to support striking city sanitation employees. "He was working for all people who were marginalized," Churchwell said.
Consuelo Wilkins, MD, MSCI, the newly announced Vice President for Health Equity at VUMC, said that she was pleased that one of her first opportunities to speak in her new role was at the tribute event. She noted that King spoke forcefully to advocate for health care for all, quoting him: "Of all the forms of inequality, injustice in health care is the most shocking and inhumane."
"We all have a role and responsibility in touching the lives of people who walk through these doors," she said. "We are all responsible for making the change."
The event concluded with Churchwell, accompanied by pianist Kelli Cox, singing a solo rendition of "Abraham, Martin and John," a song written in 1968 and which references the assassinations of President Abraham Lincoln in 1865, President John Kennedy in 1963, King in April of 1968, and of Robert Kennedy in June of 1968. The moving rendition concluded with the  final image of the four slain leaders who, in the song's words, "freed a lot of people" walking together.