Randy Hatch has dedicated his life to teaching and coaching at-risk young people. After his lifesaving liver transplant, they lined the halls to welcome him back.
Now that he is back in the game, his beloved Carroll Academy Jaguars and Lady Jaguars honor him with a message on their shirts: "Donate Life."
February 27, 2020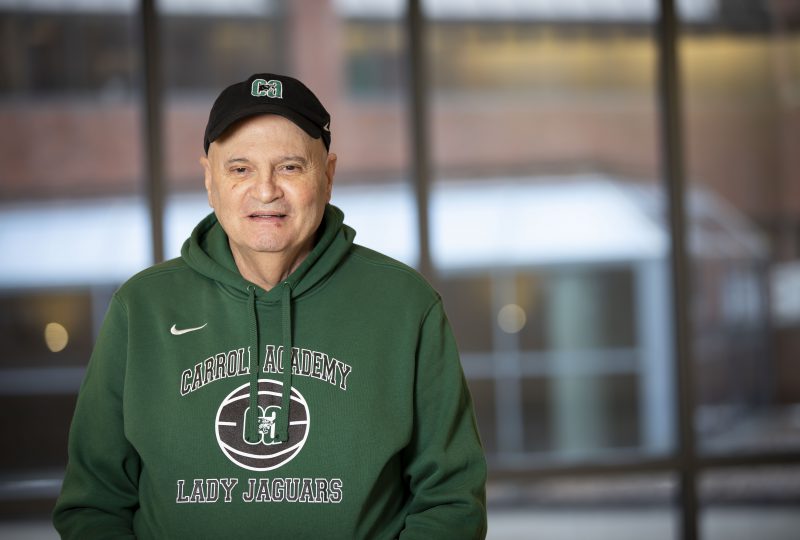 Randy Hatch's rare blood type and the severity of his illness made a transplant a long shot. He is grateful to his donor and urges others to "donate life." Photo by Susan Urmy
For more than 25 years Randy Hatch has focused on his mission in life — trying to help troubled youth graduate from high school and stay out of state custody. He has never forgotten about his mission, though he nearly lost his life.
Since helping found Carroll Academy in 1994, Hatch has been the head of the school in Huntingdon, Tennessee, about midway between Nashville and Memphis. It's no ordinary school. Operated by the Carroll County Juvenile Court and licensed by the State of Tennessee, the school is an intensive day treatment program for at-risk youth, grades 6-12. Many of its 60 or so students are court ordered. For them, it's their last stop before state custody — either they make it there or they may end up in foster care or a group home.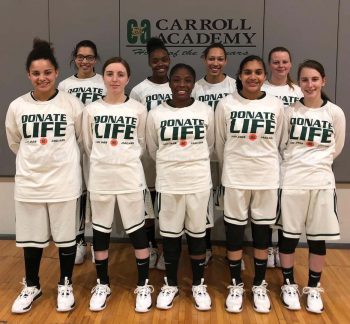 For most of a quarter-century, Hatch has played a role in coaching the school's boys' and girls' basketball teams, teaching life lessons through sports to young people, many who had never played a sport. His quiet work has gained national attention, including the ESPN documentary "Losing to Win" and a series of stories in The New York Times. But for the last season, his teams have worn "Donate Life" T-shirts to reflect Hatch's new mission – promoting organ donation – after he received a life-saving liver transplant at Vanderbilt in March 2019.
Hatch has an AB negative blood type, which only 1% of people have. Last year, Hatch was dying in a hospital room at VUMC, waiting for the small chance that a compatible donor organ would be found in the few days he apparently had left.
Defying those long odds, just as his time was running out, he got the word: a compatible liver was available. He was going to get his transplant.
"No question, Vanderbilt saved my life," Hatch said. "There's no question. I know that."
A devastating diagnosis and the struggle to keep working
In 2017 Hatch began seeing Roman Perri, MD, medical director of the Liver Transplant program at VUMC, the same year his Carroll Academy Lady Jaguars won after a 312-game losing streak. He was diagnosed with NASH, or Non-Alcoholic SteatoHepatitis. Fatty tissue was building up in his liver, causing permanent damage and fluid retention in various parts of his body, making him so nauseous on some days that he could barely walk.
"He puts everybody else before himself. All he ever said was, 'If something happens to me, what will happen to their school? People could lose their jobs. These kids could go into state custody."
He continued to work most days, and coached basketball most nights, carrying a black backpack stocked with medications and other supplies.
Hatch was barely getting by — with a great amount of effort.
"He would always try to come to work," said Patrick Steele, director of security at Carroll Academy and Hatch's right-hand man for 25 years. "Some days I would have to make him go home because he just couldn't function. He was trying to, but he was hurting and his legs were weak and he was walking and limping until it appeared that would no longer be an option."
In March 2019, he was working a normal day at school when he began feeling so poorly that Steele drove him home, which is only two blocks away from the school.
"That is where I thought I had a heart attack," he said. "My chest was just beating, and I was at home. I fell on the floor. Luckily my wife went straight home. I didn't get to call her, but at 5 o'clock, she found me and she called 911."
An ambulance came to take him to a hospital in Jackson, Tennessee, 35 miles away. His wife, Vicky, told the personnel that he had to go to Vanderbilt. "And they said we don't transport to Vanderbilt," Randy Hatch said.
What would happen to his students?
Huntingdon is a small town. It just got its first red light. And most everybody knows Hatch. A man who worked for the local public utility, also a first responder, heard the emergency call on his radio and came to help Hatch. He saw a decal on Hatch's truck that indicates that he had paid for air evacuation insurance and called for a helicopter.
"We went straight to the helicopter pad," Hatch said. "We didn't even go to the ER here in Huntingdon. And they said the helicopter would be there in 12 minutes. And it was so ironic. That pad is less than 100 yards from the school. I remember that helicopter taking off.
I looked down at the school and I thought to myself, 'I'll never be back.'"
Hatch was concerned not just for his life, but for his students. Funding for the school is never a sure thing, and he regularly asks the state legislature to keep it open.
"Everybody out here just loves him so much," said Hayley Ezell, Hatch's daughter and coach of Carroll Academy's girls' basketball team. "He puts everybody else before himself. All he ever said was, 'If something happens to me, what will happen to their school? People could lose their jobs. These kids could go into state custody. What if something happens to me and there's nobody left to step in and assume my roles and my responsibilities?'"
Hatch's helicopter touched down at Vanderbilt, and his medical team set to work. The good news was there was nothing wrong with his heart. The bad news: His lungs were filling up with fluid due to his failing liver. Medical personnel drained three 2-liter bottles of fluid from his abdomen. "They got it out and I went to a room and no sooner than I got there it started reappearing," he said.
Needed: a liver by the end of the week
Joseph Awad, MD, professor of Medicine, "looked at me and told me you've got to have a liver by the end of the week or you won't make it," Hatch said. "And I'm like, well, I'm not going to make it."
Hatch said he refused to pray for an organ. "In order for me to get well, somebody has got to die, and some family is going to have to suffer a tragedy," he said.
Nurses began praying for him, but Hatch said he refused to pray for an organ. "In order for me to get well, somebody has got to die, and some family is going to have to suffer a tragedy," he said. "I'm not going to have that. That's just not me."
Six days later, doctors found a liver that was compatible with his rare AB negative blood type.
Lee Gorden, MD, professor of Surgery, performed his transplant. Two days later, Hatch was up and walking down the halls of the hospital.
"I think Mr. Hatch is a remarkable person," Gorden said. "He is the real deal, what we should all strive for, to be committed to something worth fighting for."
Two months later, Hatch returned to Carroll Academy to watch the class of 2019 graduate and coach the 2019-20 basketball season with his daughter. His students lined the halls with signs welcoming him back.
"An inspiring man"
Hatch was back at his life's work, but something was eating at him. He couldn't get out of his mind that somebody had lost a life so he could have his. He had "Donate Life" T-shirts made for his boys and girls to wear at games to encourage more people to become organ donors. He said many people have signed up as a result.
"We wore them all year," he said. "I felt like I had to get the word out about it, because tomorrow you may need it. You don't know what tomorrow is going to bring. Wearing the shirt became an idea to get people to ask questions."
His doctors continue to be amazed with his recovery.
"Mr. Hatch is an inspiring man and to be able to participate in even a small way with regards to his health is very rewarding," Perri said. "He is not only an advocate for organ transplantation, but he is an advocate for at-risk youth – providing an excellent venue for teaching important life lessons."
To learn more about becoming an organ and tissue donor, visit donatelifetn.org. Tennessee drivers can also choose to become an organ donor on their driver's license applications. Donors are encouraged to share their decisions with their families.
Vanderbilt Transplant Center is a leading provider of organ transplantation in the Southeast and Tennessee's only full-service transplant center. Learn more at https://www.vanderbilthealth.com/transplant/.