Mary Marlowe decided to donate one of her kidneys. Four people received transplants as a result.
"It is amazing to see all the pieces come together from one person's generosity."
December 9, 2021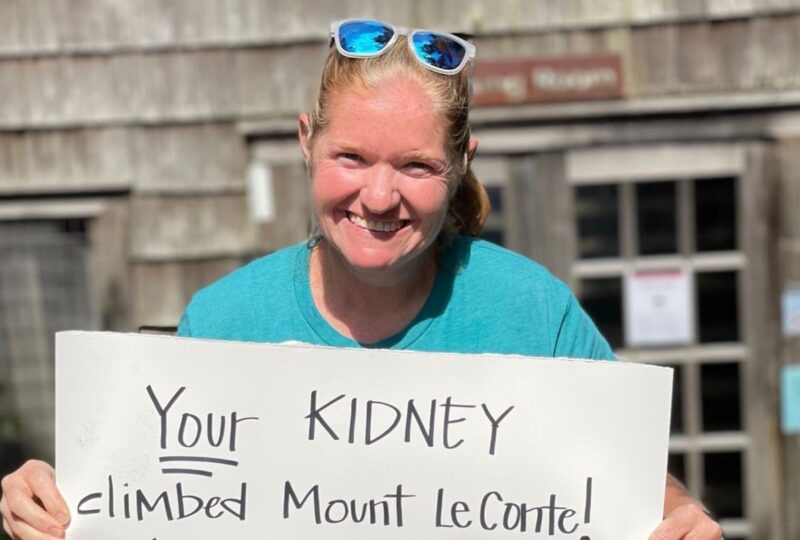 Mary Marlowe holds a sign of encouragement for the future recipient of her kidney after climbing East Tennessee's Mount LeConte. Her donation set off a chain of donations that resulted in four transplants — a first for VUMC.

Mary Marlowe couldn't have known it at the time, but her decision in January 2021 to give a kidney to a total stranger would set off a chain reaction that would result in four people getting kidneys in one week in September 2021 at Vanderbilt University Medical Center. The transplants — which took place on Sept. 14, 15 and 16 — became VUMC's first four-recipient kidney transplant chain.
The chain was made possible by Marlowe and three other donors who, after discovering they were not able to donate to the person they originally intended to, decided to donate to a stranger in return for their loved one being matched with an organ from another incompatible pair. The process, called paired donation, usually results in just two people getting a kidney transplant at once — two donors and two recipients, or a two-person chain.
In this case, it became a four-way chain — four donors and four recipients. Three of the recipients were waiting for a living kidney transplant with an approved but incompatible donor, and one recipient was on the wait list for a deceased kidney donor. It's the largest chain at Vanderbilt since a three-way chain that occurred in 2019.
It all started when one of Marlowe's friends on Facebook posted that someone she knew from high school needed a kidney, and he was looking for a living donor. The man's story kept tugging at her heart.
"I think it's such an extraordinary way for this person who wants to donate to one person to actually allow four people to receive a transplant," said Rachel Forbes, MD, MBA, associate professor of Surgery and chief of the Division of Kidney and Pancreas Transplantation in the Department of Surgery. "When you think about these incompatible chains or domino chains, the power of one donor to be able to save so many lives is incredible."
Forbes and all four other surgeons on her team participated — Kareem Eid, MD; Bernard DuBray, MD; Laura Hickman, MD; and David Shaffer, MD. Participating anesthesiologists were Michael Mantian, MD; Lauren Siemer, MD; Kara Siegrist, MD and Kevin Furman, DO.
It all started when one of Marlowe's friends on Facebook posted that someone she knew from high school needed a kidney, and he was looking for a living donor. The man, who was waiting for a transplant at Vanderbilt, was a young father who felt it necessary to reach out to strangers for an organ, Marlowe said. The man's story kept tugging at her heart.
"I read his story and honestly I would think about him all the time and just cry," she said. "COVID really helped remind me of how precious life is and of all the blessings that we have. So, I started thinking, 'gosh, is this something that I could do?' I really prayed about it and thought about it for about a month."
Marlowe lives in Knoxville, Tennessee, with her husband, Steve; son, Mason (13) and daughter, Reagan (11). When she told them she wanted to give away one of her kidneys to a stranger, they were surprised. Steve wasn't too excited at first, she said.
"But I said to him,' I feel like this is something that I'm being called to do and I feel like if I don't at least give it a try and see if I'm eligible, then I'm always going to wonder, what if? And I don't want to live with that.'"
Steve supported her decision, and Marlowe registered to be a donor at Vanderbilt. But, by that time, the stranger on Facebook no longer needed a donor. VUMC's living kidney donor coordinator Kaylin Centanni, MSN, RN, told Marlowe she could donate to a different stranger who needed a compatible kidney, one whose story she wouldn't know. She agreed.
Marlowe went through a months-long battery of tests to ensure she was in good health to donate and her kidney would be a good match for someone. These tests include blood tests, urine tests, blood pressure readings, an electrocardiogram (EKG), chest X-ray, diabetes screening and CT scan of the abdomen.
Living kidney donor coordinator Denise Lippard, MSN, RN, in collaboration with Centanni, created the four-way chain. Once the chain was determined, the living donor team was able to communicate with all parties and schedule the surgeries.
"It is amazing to see all the pieces come together from one person's generosity," Lippard said.
Kidney donations can come from either deceased or living donors. Because people are born with two kidneys, living donors can live a normal life with only one. Many recipients receive a compatible kidney from a friend or family member, a relatively quick process. But patients who don't have a compatible and willing friend or family member are placed on a waiting list, and the wait can be very long, potentially years.
Recipients who have an approved incompatible donor are placed in the Kidney Paired Exchange Program, which not only includes pairs at VUMC, but also national matching programs, including the National Kidney Registry, Alliance for Paired Donation and United Network for Organ Sharing. In this case, the paired donations were able to take place exclusively from the VUMC paired donation list.
In the transplant world, Marlowe is considered an altruistic, or non-directed donor. Her generosity not only allowed three pairs of living donor-recipient pairs to accomplish their goals, but she allowed Betty Johnson of Murfreesboro, Tennessee, to end her six-year wait for an organ offer from the deceased donor wait list. The call that Johnson received was for a living donor offer, something she could not have expected.
"I was excited and couldn't believe it," said Johnson, who spent six years on dialysis waiting for a kidney. "Everything went well."
Marlowe said she's doing well with her remaining kidney. After some pain after the operation, she returned two weeks later to her job as admissions director at St. John Neumann Catholic School in Knoxville. She says she feels back to normal and has no regrets.
"Just knowing that I potentially made a difference in someone else's life, that was the best reward I could ever ask for," she said.
Photos courtesy Marlowe family.