Winners of 2023 pumpkin carving/decorating contests announced
Space aliens! Minions! Nerds! A candy corn blowfish! This year's entries have it all.
October 27, 2023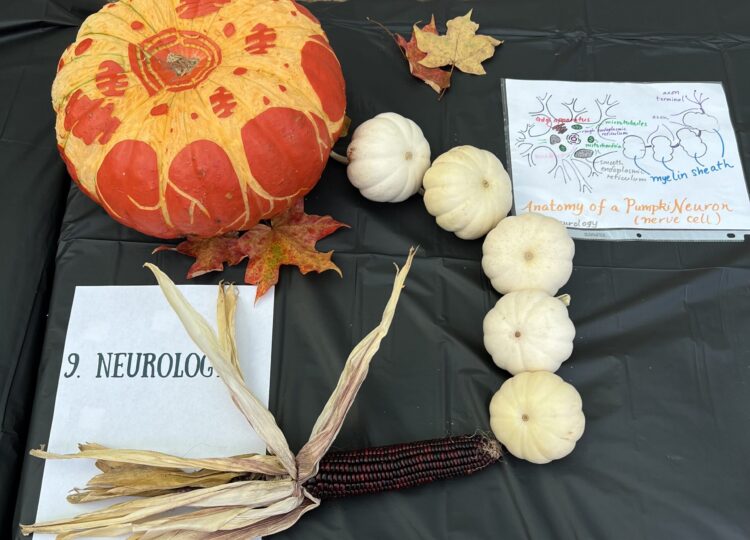 The Best Overall prize in this year's contest on the main campus went to Neurology for this stunning gourd-based depiction of what entrants described as a "PumpkiNeuron," complete with smaller "myelin sheath" pumpkins leading to the maize "axon terminal." The fact that the whole thing vaguely resembles the killer monsters unleashed in the 1958 horror classic Fiend Without a Face is only a bonus.
The annual pumpkin carving and/or decorating contests were held on the main VUMC campus and at Vanderbilt Wilson County Hospital (VWCH), with the usual burst of employee gourd-based creativity.
The Health Plus-sponsored pumpkin-carving contest was held on the the VUH Plaza at the Oct. 19 Farmers' Market. The entries were on display and market-goers could vote on the winners in the categories Best Carved, Best Decorated and Best Overall, and some Honorable Mentions were selected as well.
The VWCH pumpkin decorating contest is sponsored by that hospital's Employee Engagement Committee, and the winners were determined by staff votes over a several day voting period.
"I love that this event brings out the creativity of our team members and fosters a little friendly competition.," said Whitney Hall, associate operating officer at VWCH. "I am grateful for all of the teams who participated in the event, as well as the Employee Engagement Committee members that helped make this event a success – Kylie Pitman, Alex Dolby, Alex Sage, and Brigitte Williams."
Blake Hampton, program manager at Health Plus, was also full of praise for the main campus entries.
"Health Plus was delighted to see the creativity that the VUMC departments brought to this year's pumpkin carving contest.," she said. "There were countless smiles on the Plaza as market goers voted for their favorite displays. This annual contest continues to be a bright spot in the market season, and we can't wait to see what VUMC departments bring to the table next year."
A look at additional winners and Honorable Mentions from the contests:
Best Carved, main campus. Vanderbilt Interpreter Services:
Best Decorated, main campus. Dialysis and Apheresis:
2nd Prize, VWCH. Emergency Department:
3rd Prize, VWCH. Ambulatory Surgery Center:
Honorable Mentions, main campus:

Honorable Mention, VWCH: